New challenges.
New behaviors.
New you.
Creating Exceptional Presence Training Program. Learn to master perceptions through behavior modification techniques used by actors and athletes. Limited first enrollments accepted in February 2014. Skills taught and practiced: Self-analysis, Sensitivity, Interpersonal, Verbal, Style, Situational, and Performance. Based on the book: You, Not I: Exceptional Presence through the Eyes of Others. Additional materials include the Creating Exceptional Presence Handbook. All materials are included at no extra charge, including a certificate of completion. Can be taught in-person or on-line. It is comprised of ten 90-minute sessions, combined with readings, developmental exercises, and video-analysis, with an emphasis on tactical information and tangible results.
This program is a modification and extension of the Executive Presence Program which was launched in 2013 through the University of Wisconsin and the National Association of Women MBAs.Contact me at jennifer(at)discreetguide(dot)com for enrollment information.
Click here to read the introduction to the book, You, Not: Exceptional Presence through the Eyes of Others.
Testimonial: "Upon entering the Exceptional Presence Program, I was confident, doing well in my current position, and taking on more responsibilities at work. But I was also stressed out, sometimes responding poorly to difficult situations, and not paying attention to things that were out of my immediate focus. After only a few sessions into the program, I could begin to see a change in how I responded to difficult situations and to people in general. I became more aware of my surroundings and really learned to stop and think before reacting. Now that I have completed the program, I can say without doubt that I have made huge improvements to my overall presence that I will keep with me, both in my professional and personal life." ~Laura Richardson, Project Manager
Still offered: EXECUTIVE PRESENCE PROGRAM
"I anticipated that the program would help me learn little tricks or tips; I did not anticipate that what I learned could be so important and applicable to all aspects of my life." ~Natalie Block, MPA/MAIS Candidate
"The 'aha!' moments she coached me through were really remarkable. I'm so glad I had and continue to have her in my corner as I grow in my career." ~Philana Kiely, Executive Director, MBA Women International
Click here to read an excerpt from the Executive Presence Handbook.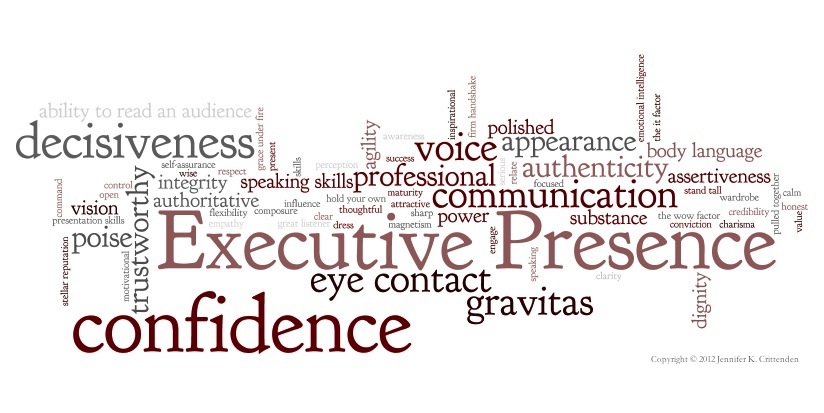 Forbes recently reported that a study of over 4,000 leaders found that over 25% of an executive's success could be attributed to "Executive Presence." Yet many people have trouble describing exactly what Executive Presence is, even if they feel as though they know it when they see it. Developing this elusive quality can be particularly daunting for minorities and women. The study further reported that women find feedback about executive presence "hopelessly contradictory." A new course has been developed to unveil the mysteries of Executive Presence and to teach you how to build your own.
Increase Your Promotability and Compensation
Has a dignified person ever caught your eye as soon as he or she walked into the room? Have you ever heard someone say, "I trusted him right away?" What are the intangible qualities that make us take notice of these individuals? Someone's "Presence" may play a big role in your perceptions and assumptions about someone. And if you are seeking advancement in your career, developing your own presence will be very useful. It helps others take you seriously, identify opportunities for you, believe what you say, and trust you to make good decisions. To become part of the leadership team, you must look and act the part. Although we tend to focus on appearance when we talk about Professional Presence (and we will cover those basics in this course), it is the more subtle messages that we send by the way that we talk and carry ourselves that are the real drivers behind your presence. These take time to develop and practice but are well worth it. A strong presence can significantly increase your promotability and compensation.
Individual Coaching Provided
This intensive, customizable program includes a self-assessment to identify areas to focus on, such as gravitas, credibility, authenticity, confidence and trust. Tactical lessons will address voice, carriage, wardrobe, and language skills. Context-specific behaviors will be identified, studied, evaluated, and practiced to augment others' positive perceptions of you. Individual coaching is provided in six 90-minute video-Skype sessions, combined with a series of self-development activities (provided by the coach) to be completed between the sessions. Participants will complete a total of 56 hours of program time, including calls, guided activities and individual instruction. The program should be completed within 12 months although it is typically completed in 3 months.
Featured Coach
Coursework is guided by Jennifer K. Crittenden, former CFO, speaker, and author of The Discreet Guide for Executive Women, a career advice book for women, a copy of which is provided to all recipients who select her to be their instructor. Jennifer has a BA in Linguistics, an MBA in Finance and nearly twenty-five years of experience in corporate America working for big pharma and biotech companies in the U.S., U.K., and Europe, rising from financial analyst to CFO. She writes and speaks frequently on topics related to gender, communication, and language in the workplace. She also has a teaching certificate from the University of Cambridge. You can learn more about her at discreetguide.com.
Creating Your Own Unique Presence!
As you develop your arsenal of skills to take you to the next level, make sure that a lack of presence is not holding you back. Even if others cannot define it, an expert can show you how to analyze, practice, and develop it.
This program is open to anyone anywhere in the world with access to Skype. This course with the same instructor is offered through the University of Wisconsin or through the MBA Women International professional organization, if you would like to receive an official certificate from one of those organizations. Prices vary. If you register directly through Jennifer Crittenden, the price of the program is $2,000 for 56 hours of program time, including six individual 90-minute coaching sessions. Write to me at jennifer (at) discreetguide (dot) com and tell me what your goals are, and let's see if there's something I can help you with. The program will start whenever you are ready to start enhancing your Executive Presence.
Click here to read the press release about the first graduate of the program.
Click here to read an excerpt from the Executive Presence Handbook.
MBA Women International announces the Executive Presence program. Click here to read the news release.
University of Wisconsin launches the Executive Presence – Strengthening Professionalism Course. Click here to read the announcement. (No longer available.)
"Creating Executive Presence" program launched in Jan 2013. Click here to read the press release.
© 2014 Jennifer K. Crittenden