ACCENT REDUCTION AND UNDERSTANDABILITY IMPROVEMENT

"She literally changed his life." ~ Janet Andrew, Executive Career Coach
This training program is designed for English learners who want to reduce their accent and improve their understandability. Individual 60-minute sessions focus on diction, fluency, rhythm, pitch, and syllabic stress to create a voice that is uniquely yours. Teaching techniques include video analysis, "singing along," tension reduction, minimal pairs, and speaking exercises. The objective is to ensure that you are understood — not to eliminate your accent. Lessons are lively and fun with exercises designed for your specific needs.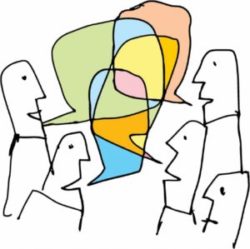 Click here for the press release announcing the program.
The program makes heavy use of technology, including vocal analysis software, videos, and audio segments. Clients can see their own vocal inflection on a monitor compared to a native speaker which allows for faster progress. It also uses on a unique handbook, not available anywhere else. The handbook was written over six months as the program was being developed. Because some of our clients turned out to have issues with nasality and sounding "strained," the handbook also includes sections on physiology and care of the voice. Read an excerpt here.
This program is comprised of ten one-hour sessions. Sessions are private and confidential. Write jennifer (at) discreetguide (dot) com for further information.
Because we started with Mandarin speakers as test learners as we built the program, we know what the challenges are. Several of our Chinese clients spoke English very well, but Americans found them hard to understand. Asian professionals who are looking to build their professional image are good candidates for this program.
The key instructor, Jennifer Crittenden, has a B.A. in Linguistics and French, and a CELTA certification to teach English as a second language, as well as over twenty years of corporate experience. Other instructors have similar qualifications.
Early praise has been high:
"I worked with Jennifer for a span of four months in her program Your American Voice. I can attest that I benefited considerably from her coaching, dedication, and encouragement. Jennifer devised a program specifically tailored to my needs, which were to find a way to improve the way I present myself as a financial professional. Through practice and other creative approaches, such as adopting the speaking styles of some well-known individuals, I was able to identify the issues associated with my speech and alleviate them. In our sessions, Jennifer was patient and made me feel comfortable to not be afraid of making mistakes and correcting them. Jennifer was always prepared and open to new ways of helping me with my business speech. I would recommend Jennifer and the American Voice program to anyone who is looking for a way to improve his or her executive presence in business settings, and find a speaking style that would be in line with his or her personality."
~ The Program's First Graduate
I sent one of my clients to Jennifer to help with some speech issues that were impeding his job search and after four months was frankly blown away by his transformation. He spoke with such confidence, and his articulation and fluency were much improved.I was astounded with the positive change that I observed, and how she literally changed his life."
~ Janet Andrews, CEO, A Career Above / Executive Career Coach